Details

Category: UK - Jobling - Mixed Batch
Published on Monday, 04 June 2007 00:00
Written by Frank Andrews
Hits: 2373
| | | |
| --- | --- | --- |
| Mixed Batch | – 72 – | James A. Jobling & Co. Ltd. July 1958 |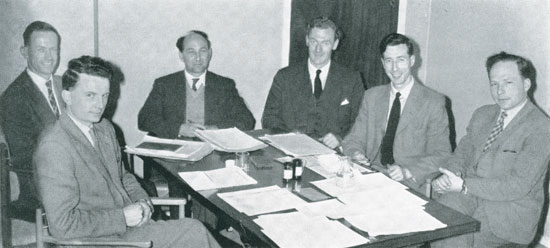 Mr. H. S. Y. Gill, Executive Director responsible for technical activities with senior executives of the Technical Division

TECHNICAL DIVISION

Executive Director

Technical Services Department
(Manager)
Plant Development Department (Manager)
Product Design Department (Chief Designer)
Product Development Department (Manager)
Product Standards Department (Manager)
Raw Materials Batch & Melting, Refractories (Technical Officer)


{see Footnote}

Furnaces (Technical Officer)
 
New Products Resistors (Section Leader)
Inspection
(Chief Inspector)
Glass Quality (Technical Officer)
Forming and Processing (Technical Officer)
 
Multiform (Section Leader)
Product Specifications (Specifications Officer)
Instrumentation -(Technical Officer)
Electrical (Technical Officer)
 
E. C. Panels and Tubes
(Section Leader)
Quality Control (Officer)
Technical Investigators (Technical Officer)
Draughtsman
 
Capacitors (Section Leader)
 

{Glass-study.com pencil note: "This is me – there should, of course, be a comma between 'melting' and 'refractories'." (Comma added)}

Page Seventy-two
| | | |
| --- | --- | --- |
| Mixed Batch | – 73 – | James A. Jobling & Co. Ltd. July 1958 |
| | | |
| --- | --- | --- |
| | | |
| BETTY WATSON, in her first year with Joblings. When we saw her, was working on transistors. Keen on all kinds of dancing and swimming. Tommy Steele and Elvis Presley fan, but doesn't like skiffle. | ELIZABETH SCOTT, in her first year with Joblings. Now helping Mr. Grossman and Mr. Ranson. Plays tennis, likes walking or reading and television. | ROBERT GLENDENNING, 10 years with Joblings. A Roker Park fan who gets his excitement by reading thrillers. Is attending night school for H.N.C. He likes a drink of lager. |
The Technical Activities have now been coordinated and defined to include the sections —
| | |
| --- | --- |
| Technical Services | F. Westwick |
| Plant Development | E. J. Grossman |
| Product Design | J. D. Cochrane |
| Product Development | E. Orange |
| Product Standards | G. Ranson |
in such a way that we expect the service to the producing units in our organisation to be so satisfactory that they will be in constant demand, for only in this way can we justify our existance. The quality of personnel available and experience that we have available to us gives every indication that we will be successful.
H. S. Y. GILL
Executive Director Technical Division
---
TECHNICAL SERVICES
We offer our heartiest congratulations to Mr. Barry Hoffman of the Instruments Maintenance section who having succeeded in withstanding the cold for almost the entire Winter, eventually failed at the last ditch and took precautions about keeping warm next year.
On this occasion we have no further engagements, marriages or births to report but since this is not to my knowledge considered a technical problem we are not unduly concerned.
Seriously however, we were extremely concerned over the unfortunate accident to Roy Burdis who although not now in this department has continued to work in our vicinity.
Roy, an inveterate "inventor", received a high voltage electric shock whilst working on a new gadget for Pipeline Factory, but is now making satisfactory progress in his recovery and we all sincerely wish him a speedy return to work.
I would like to express Roy's gratitude and tribute here to B. Chater and D. Thompson of the Research Department for their highly commendable presence of mind in promptly switching off the current and applying artificial respiration. Such action averted an extremely serious accident.
Further thanks are due to our Nursing Staff who attended with their customary efficiency.
Now that the Production Staff (Bless them!) have more or less sorted out the scattered offices and telephone numbers which comprise Technical Services, we are very pleased to announce that we soon hope to be centralised in new offices.
No doubt, a number of "landlords" will be delighted to hear of the impending departure of their "squatters" and we in our turn say "Thank you for the hospitality".
Bill Scorer and Barry Hoffman have our best wishes for success in their forthcoming Higher National and National Certificate examinations respectively.
PRODUCT DEVELOPMENT
Many changes have taken place since last writing, the most important being that we are now firmly settled in the old Government Stamping Department, although it is rumoured that some of us will shortly be on the move again, to the old General Office.
| | | |
| --- | --- | --- |
| Mixed Batch | – 74 – | James A. Jobling & Co. Ltd. July 1958 |
| | | |
| --- | --- | --- |
| | | |
| LILY PATTERSON, 23 years with the Company and now on inspection in Apparatus. Goes to cinema and likes the Perry Como Show. Newly engaged. | GEORGE B. RITCHIE, Assistant Designer in his second year with Joblings. Mixed batch of likes: indoor gardening, painting, breeding Siamese cats, whisky, the theatre, the highlands. | BRENDA GRAY, 4 years with Joblings. Hobbies: the cinema and televiewing. Likes people with personality such as Gilbert Harding, Harry Secombe, Barbara Kelly and Lady Barnett. Likes to watch boxing and football, but has given up going to Roker Park. |
The department has been considerably enhanced by the arrival of the 'girls in pink'. These girls are working under the capable supervision of Bob Glendenning in the Resistor Section, Ray Burrell in the Multiform and Sintered Disc Section and Dhun Sethna in the Capacitor Section.
Although the Cricket Season is now upon us, and Harry Talbott is continually making excuses, for his scores, poor Denis Eccleston is still wearing black, and adding up league points trying to prove that Sunderland haven't really made the big drop.
In this year's football tournament we again assisted the Research Department to form a team, beating the S.A. 1-0 and the Electricians 5-2, and then finally coming to grief against the Staff by the score of 2-1. These games have brought to light a new star in Ray 'Rino' Burrell whom we welcomed just recently to take charge of the Multiform and Sintered Disc section.
Just recently a spirit of friendly rivalry has been built up between George Cooke and Dave Walton concerning the merits of their Skiffle Groups, i.e. The Zodiacs and the Jesters. All I can say is that The Zodiacs were very well received at the Grange, South Hylton, as were the Jesters at the Engineers Dinner Dance. I am informed by Mr. 'Scratch' Hunter that he has a very good washboard, genuinely autographed by the Zodiacs, for Sale. Any applicants for this rare instrument should be accompanied by £5.
I am pleased to say that John Little's leg is now much better and it won't be long before we see him knocking the cricket ball all over the field. Meanwhile Dhun Sethna is still trying to hit a golf ball for the first time.
Bill Stewart left us recently to learn the intricacies of Powers-Samas machines, and incidently how to manage a wife as well.
Gordon Ranson has also left the Department but not the firm. He has taken charge of the newly created Standards Department.
Finally as you read this spare a kind thought for the many anxious people in the Department waiting for those dreaded Exam. results.
PRODUCT DESIGN DEPARTMENT
Apart from extending the warmest welcome to Miss Doreen Watson, who has joined the department as secretary and general dogsbody, we would, without apology, make the following observations:
 

Dixon, Dixon, don't you stop,
just let your gather go flippety-flop,
the punty goes round
and the mould grows hot —
Geordie up! we've blown a pot.

C.L.S.
took
one look
at my layout for his book
then slung his hook —
half hysterical
for South Americal.
Page Seventy-four
| | | |
| --- | --- | --- |
| Mixed Batch | – 75 – | James A. Jobling & Co. Ltd. July 1958 |
PLANT DEVELOPMENT DEPARTMENT
At a time when the Works celebrate their Centenary we have been in existance for three months only. You will not expect too much from a baby so tender in age. In fact you should be surprised to hear us talk at all. The original team has been strengthened with the transfer of Miss E. Scott during April. Her services are shared with Products Standards Department. Mr. R. Nell joined the department officially on May 1st. He still resides in the Drawing Office as a non-paying guest.
PRODUCT STANDARDS DEPARTMENT
For those who didn't know of the existance of a Product Standards Department may we enlighten you. We, quality control, inspect and make product specifications.
Now do you recognise us ?
We welcome to the department a number of ex-Servicemen, D. Henderson, R. Marshall, J. Rowes, F. Cairns and J. Irving. If you hear the bugle call at 7.30 a.m. it will be ex W/O Barnett taking a roll call. Not only that we also have ex-Naafi Canteen Manager Mullen to provide sustenance for overworked inspectors. No! we are not getting a 'sub' from S.S.A.F.A.
In the Blownware Factory we are sorry to lose Mary Bowden and Babs Thompson, however our loss is Mr. Prior's gain.
To the staff we welcome Cyril Easton from the Apparatus Factory and Miss Elizabeth Scott who has been trained in 'The Method' by the Purchasing Department.
---
SUGGESTION SCHEME
In 1958 we have received a number of good suggestions, and the total amount of money awarded for the first four months now comes to £146.10.0 The suggestions gaining awards of £8 or more are given below, together with the names of those who have realised that ideas pay off.

MR. DUPLOCK
801/201/57
Interchangeable Jig for turning the core of Auto and Hand Press Mould Plunger
£10
T. W. Scarf
Eng. Works
804/19/58
Deflectors
£10
L. Lewis
P & S Wks.
819/14/58
Boepple Multiple Dividing Mch.
£10
G.A.Fidler
Apparatus
813/8/58
New Type Needles
£8
N. Richardson
Pressware
22/17/58
H.F. Generator Spark Plugs
£20
R. Burdis
P & S Wks.
851/46/58
Burners on Second Line Opal Preheater
£25
A.G.Duplock
P & S Wks.
847/42/58
Quality of 90 Grit Carborundum.
£8
F. Parkes
S.A. Fact.
809/4/58
810/5/58
Saving Postal Expenses.
£16
H.Trueman
Personnel

MR. HARRY TRUEMAN
We now await the results of the special competition held during April covering ideas for reducing losses sustained through breakage and damage to glassware, and we shall list the employees gaining the prizes in the next issue.