USA China and Glass Red Book
Details

Category: Trade Directory USA
Published on Wednesday, 18 April 2007 12:07
Written by Administrator
Hits: 2768
CHINA and GLASS
RED BOOK
1951
Published by China, Glass and Decorative Accessories * Pittsburgh, Pa.
Authentic Handmade Reproductions
by WESTMORELAND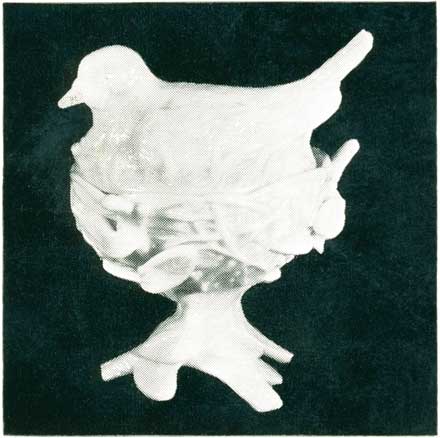 Westmoreland's handmade milk glass reproduc­tions are world-renowned for their purity of color, for their authenticity and craftsmanship.
WESTMORELAND GLASS COMPANY
GRAPEVILLE,   PENNSYLVANIA
| | | |
| --- | --- | --- |
| 1951 Red Book | – Cover inside – |   |
SOLVE YOUR
"DELAYED DELIVERY"
PROBLEM ...

ORDER ROBINSON
Pottery
China & Glass
Order ROBINSON! Your selection will be on your shelves . . . and pro­ducing profits for you . . . before you can say Jack ROBINSON. You don't lose money on shipments delayed weeks or months ... on broken merchandise . . . and long-drawn-out damage claims.

Order ROBINSON from the mer­chandise warehouse . . . nearest you . . . write, wire or phone. You get quick delivery by our own trucks in most areas.

MANUFACTURERS AND DISTRIBUTORS OF

Pottery

Garden Ware, Florist Ware. Hospital Ware, Industrial Pottery.

China.

Dinnerware, Novelty Ware, Gift Ware, Kitchen Ware.

Glass

Gift Glassware, Table Glass­ware, Novelty Glassware. Miscellaneous Glassware.
Write now for FREE catalog

THE ROBINSON CLAY PRODUCT CO.

ESTABLISHED 1856

28-pages illustrated in color. Order ROB-INSON fast-selling regular, seasonal and holiday items the easy way.

AKRON 9, OHIO
65 W. State St. ....... FRanklin 3151

ALBANY 4, N. Y.
1357 Broadway .............. 3-4139

BOSTON 35. MASS.
135 N. Beacon St ..... STadium 2-8900

BUFFALO 10, N. Y.
1146 Seneca St ........ TRiangle 3082

CHICAGO 31, ILLINOIS
5835 W.TouhyAve. New Castle 1-5700

EAST HARTFORD 8, CONN.
170 Tolland St ........... 8-1447

INDIANAPOLIS 7, IND.
1013-15 E. 21st St ....... WAbash 1507

JAMAICA, L. I., N.Y.
107-10 180th Street
P. 0. Box 589 ........ REpublic 9-7100

ROCHESTER 11, N. Y.
609 Buffalo Road .....GEnesee 4385

SYRACUSE 4, N. Y.
Sand & Spencer St............?-9226

TORONTO, ONTARIO, CANADA
Ft. of Shaftesbury Ave. Kingsdale 6177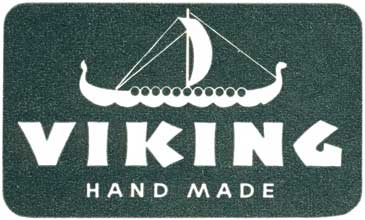 Treasured American Glass
. . . made in New Martinsville, West Virginia, by the Viking Glass Company.

Craftsmen in the creation of Handmade Glassware (Pressed and Blown) . . . Plain . . . Cut and Etched . . . Colored . . . Novelties . . . Tableware . . . Gifts and Specialties . . . Private Mould Work.

Representatives:

F. F. Brown Company
Room 400, Merchandise Mart
712 South Olive Street
Los Angeles 14, California

Corris and Dunn
427 Merchandise Mart
Honolulu 13, Hawaii

Mark M. Danner
1828 Tremont Street
Ft. Worth, Texas

Howard Gibb
Riverton, New Jersey

James Guy
R. D. No. 2
South Zanesville, Ohio

Walter H. Hovey Company
1355 Market Street
San Francisco 3, California

Harry Hyman and Son
(Export Manager)
254 West 54th Street
New York 19, New York

Lee Kennedy and Associates
3500 Ridgewood Road N.W.
Atlanta, Georgia

W. S. Mann
4226 West 74th Street
Mission, Kansas

Eugene L. Miller
New Martinsville, West Virginia

Martin M. Simpson & Company
1562 Merchandise Mart
Chicago 54, Illinois

Paul H. Snow
3779 Honeycut Road
Salt Lake City 6, Utah

Alan Symmes
High Street
Chelmsford, Massachusetts

Taylor Alaska Sales Company
P. O. Box 66
Spenard, Alaska

George E. Weigl Company
230 Fifth Avenue
New York 1, New York

James Weikel
Box 1977
Greensboro, North Carolina
CHINA and GLASS
RED BOOK
46th Annual Edition . . . . 1951
Basic data on china, pottery and glassware manufac
­turers, distributors, importers in the United States
SIX INDEXED SECTIONS
(With Alphabetical Listings and Product Classifications)
AMERICAN POTTERY
China and Earthenware
AMERICAN GLASSWARE
IMPORTED POTTERY and GLASSWARE
NEW YORK MARKET
CHICAGO MARKET
MISCELLANEOUS
General Index on Page 6
Advertisers' Index on Pages 8, 10, 12
Published by
CHINA   .   GLASS
AND DECORATIVE ACCESSORIES
1250 Century Building           Pittsburgh 22, Pa.
Tel. Atlantic 1-4230
New York Office: 200 Fifth Avenue.       Tel. Oregon 5-6188
Los Angeles Office: 601 S. Vermont Avenue.    Tel. DU 8-7104
Royal Jackson
FINE TRANSLUCENT CHINA
Jackson are leaders in
"Fashion in Dinnerware" ®
• FASHION
• QUALITY
• VALUE
• PACKAGING
• NATIONAL ADVERTISING
• DEALER AIDS
See how you can profit from the big plans now under way for Royal Jackson. They're designed to set new sales records for Amer­ican China . . . for us . . . and for you!
JACKSON VITRIFIED CHINA CO. INC.
Fashion in Dinnerware

NEW YORK OFFICE

FACTORY

CHICAGO OFFICE

9 East 26th Street

Falls Creek, Pa.

Merchandise Mart
Justin Tharaud & Son, Inc.

exclusive distributors for

Highlight

Dinnerware

by Russel Wright

The dramatic new tableware that combines colorful pottery with snow glass. "Highlight" comes in Blue­berry & Snowglass, Citron & Snow-glass, Pepper & Snowglass, Nutmeg & Snowglass. One of the highlights of the year for the China & Glass Buyer who knows what his custom­ers want.
exclusive importers for....

 

Sadler's English
Earthenware Teapots

Royal Netherlands Hand-cut
Crystal Stemware from Holland

Myott's English
Staffordshire Earthenware

Royal Albert English
Bone China
Justin Tharaud & Son, Inc.
129-131 FIFTH AVENUE, NEW YORK
Keep Posted on These Famous Lines

EVERLAST METAL PRODUCTS CORP.




America's Number
One Brand for
Crafted Aluminum.

Presenting America's preference in forged and hammered alumi­num in a tremendous selection of hostess accessories and necessary home items in a range of prices to fit any budget or need.

GOLDCREST CERAMICS CORP.

Presenting a beautiful series of fig­ures, animals, smoker's accessories, figurines, etc. designed by famous sculptors and executed in fine china in lovely colors and glazes to suit every taste.

NATIONALLY ADVERTISED-AT ALL MAJOR GIFT SHOWS

Everlast

EXCLUSIVE SELLING AGENTS

Home Office and Showrooms:
225 Fifth Avenue
NEW YORK 10, N. Y.

Western Showrooms:
527 West 7th Street
LOS ANGELES 14, CAL.

Chicago Showrooms:
1525 Merchandise Mart
CHICAGO 54, ILL.

Toronto Showrooms:
The Hopkin-Morgan Co.
6 Wellington Street East
GENERAL INDEX

Advertisers Index

8, 10, 12

Artificial Flowers

197

Chicago Market

185-194

China, American

15-72

Designers

197

Dinnerware Shapes and Patterns, American

68-72

Earthenware, American

15-72

Glassware, American

73-110

 
Manufacturers, Decorators, Cutters and National Distributors
75-98
 
Product Classification
99-109
Imported Pottery and Glassware
111-162
 
American Distributors
113-138
 
Foreign Manufacturers and Trade Names
142-162
Metal Accessories
197
New York Market
163-184
Plastics
197
Plate Stands and Hangers
198
Pottery, American
15-72
 
Manufacturers, Decorators and National Distributors
17-54
 
Product Classification
56-69
Trade Associations
199-200
Trade Names
201-216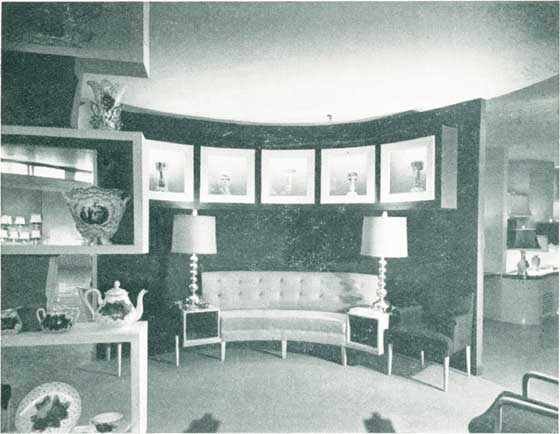 Through these portals *

 

PASS THE MOST DISCRIMINAT­ING BUYERS ... TO SELECT

CHINA AND GLASS ACCESSO­RIES AND LAMPS.

 

* View of entrance to our newly
redecorated showrooms.

Abels. Wasserberg & Co., Inc.

23 E. 26th STREET, NEW YORK 10, N. Y.
Chicago:
Space 1548
Merchandise Mart
Grand Rapids:
Grand Rapids Exhibition Bldg.
Fifth Floor
Los Angeles:
Marsh-Fairchild
503 Brack Shops, 527 W. 7th St.