Details

Category: Leaflets, Maps & Correspondence
Published on Tuesday, 09 September 2008 16:21
Written by Frank Andrews
Hits: 5185
VERRE - GLASS - ČSR
{Glass-Study : Unpaginated. Estimated date 1920s.}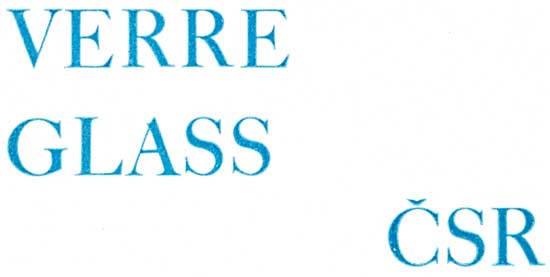 3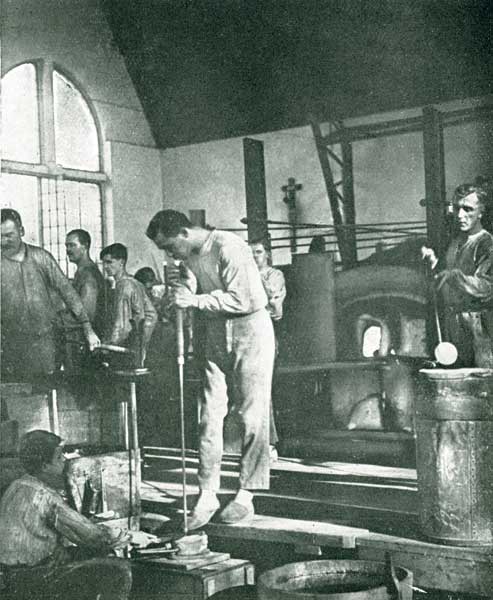 En Tchécoslovaquie, la verrerie produit des verres décoratifs de toutes sortes: cristaux de luxe, cristaux de couleur, cristaux taillés ou peints; elle produit aussi de la verroterie pour bijoux fantaisie et du verre ordinaire pour tous usage en trés belle qualité. Cela explique pourquoi la verrerie tchécoslovaque est si recherchée dans le monde entier.

The Czechoslovak glass industry produces decorative glass of all kinds: crystal de luxe, coloured crystal, cut or painted crystal; also bijouterie and ordinary glass for all purposes, in best quality. This explains why Czechoslovak glass is so keenly sought after all over the world.
4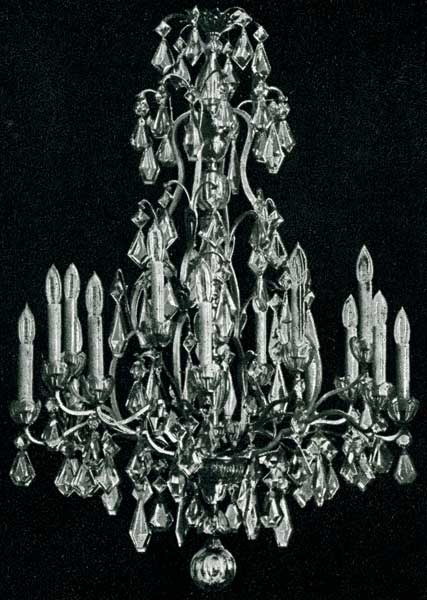 LUSTRE EN VERRE PRISMATIQUE
Dans le Nord de la Tchécoslovaquie, les ver­reries produisent un verre qui se prête admi­rablement à la confection de pendentifs ou d'ornements taillés à facettes très employés pour la fabrication des lustres ou la décoration d'articles d'éclairage.
CHANDELIERS OF PRISMATIC GLASS
In the north of Czechoslovakia the glass fac­tories produce a glass which lends itself admi­rably to the making of hanging ornaments cut in facets which are much used for chandeliers or in the decoration of lighting fixtures.

5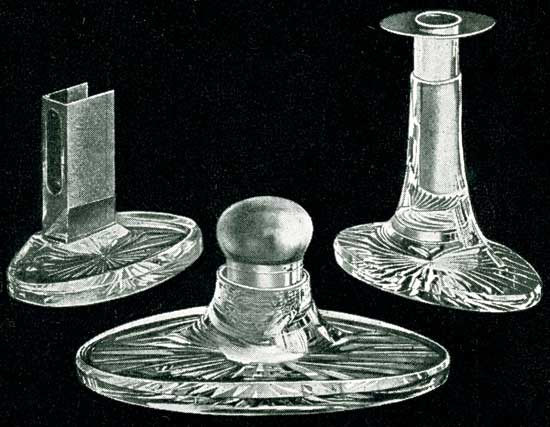 MODELE D'ENCRIER EN VERRE MOULÉ ET TAILLE
Le verre tchécoslovaque à base de plomb, d'une transparence remarquable, moulé, taillé ou gra­vé, sert à la fabrication de nombreux objets d'art ou d'usage courant.
MODEL OF A MOULDED AND CUT GLASS INKSTAND
Czechoslovak lead-glass is remarkably trans­parent, and moulded, cut or engraved, is em­ployed for the manufacture of art objects or articles of every-day use.

6
OBJETS EN CRISTAL

Le célèbre cristal de Bohême, que les experts déclarent inimitable, se prête admirablement à la taille et au polissage, aussi l'emploie-t-on aussi bien pour des œuvres d'art que pour des articles d'usage courant qui doivent leur valeur tant à la qualité de la matière qu'à la finesse du travail.

CRYSTAL ARTICLES

The celebrated Bohemian crystal, declared by experts to be unequalled anywhere in the world, lends itself admirably to cutting and polishing. It is used not only for the making of works of art but also for articles of every-day use the value of which depends as much on the quality of the material as on the fineness of the work­manship.
7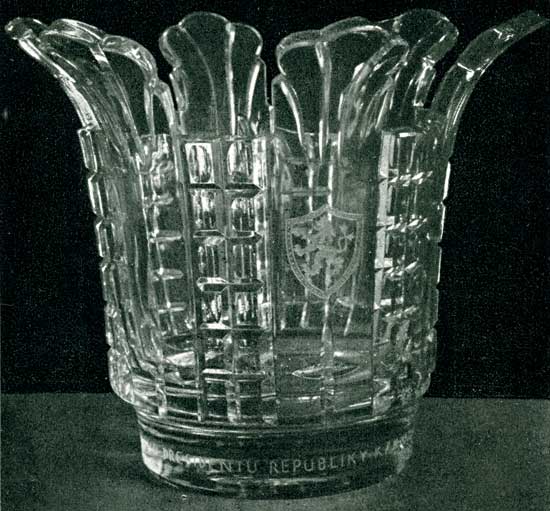 OBJET EN CRISTAL
Toute intaille exige un cristal de toute premi­ère qualité et des cristalliers habiles dont une longue expérience a développé le goût et la connaissance des jeux de la réfraction.
CRYSTAL ARTICLE
Crystal for cutting must be of the very finest quality, and the work must be done by skilful cutters, in whom long years of experience have developed a special aptitude and a knowledge of how best to obtain the reflection of light in the glass.
8

VERRE
Le cristal taillé est souvent rehaussé de motifs gravés. Le verre doit être alors d'une qualité toute particulière. L'ornementation due à des artistes est alors exécutée par des graveurs exer­cés qui, peu nombreux, savent donner à l'objet le caractère d'une œuvre personnelle.
GOBLET
The appearance of cut crystal is often enhanced by engraved designs. In that case the glass must be of superfine quality and the ornamentation is done by certain skilled engravers who are few in number but have the artistic sense which enables them to impress their work with the characteristic of individuality.

9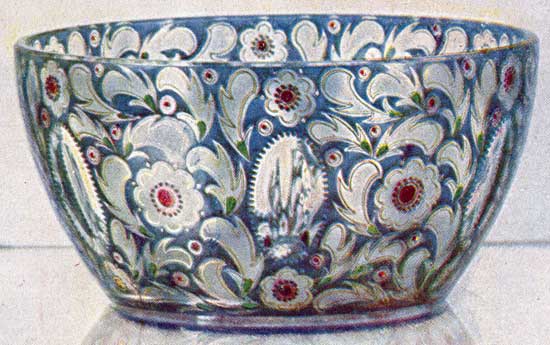 VASE PEINT
Un grand nombre de peintres s'adonnent à la peinture sur verre. Ils y apportent toute la pré­cision d'une technique savante. La Tchécoslo­vaquie offre donc un grand choix de cristaux ou de verres décorés de peinture.
PAINTED VASE
A large number of painters devote their atten­tion to painting on glass and perform the work with all the precision required by the art. Thus Czechoslovakia offers a very wide choice of painted glass and crystal.

10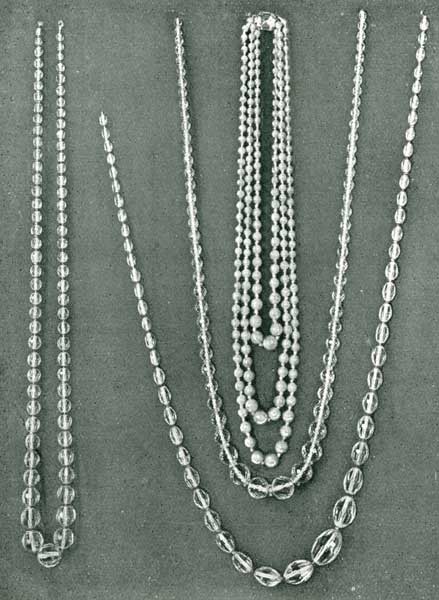 A la verroterie de Jablonec (Gablonz) se rattache la fabrication des perles de verre, où s'est spéciali­sée la région de Zelezný Brod. Cette région se dis­tingue non seulement par la fineses qu'elle sait donner à la taille et au polissage, mais aussi par le caractère original qu'elle sait imprimer aux objets en perles de verre qu'elle fabrique.
In connection with the Jablonec (Gablonz) ware must be mentioned the making of glass beads which is carried on mainly in the Z. Brod district. This region has become famous not only on acc­ount of the excellence of the cutting and polishing of the articles which it produces but also on ac­count of their original and distinctive character.
11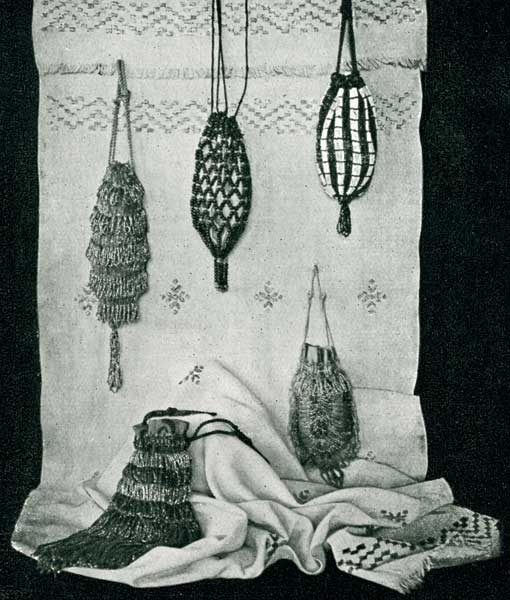 L'industrie du verre possède en Tchécoslova­quie une branche toute spéciale ; c'est celle de la verroterie de Jablonec (Gablonz). Grâce à ses vieilles traditions, celle-ci sait non seulement imiter les pierres fines, mais encore appliquer le verre à de nombreux usages décoratifs. Une des principales spécialités de la verroterie de Jablonec est la bijouterie de fantaisie.
The Czechoslovak glass industry has a unique branch; the making of Jablonec (Gablonz) ware. This branch has long traditions, and specializes not only in the imitation of precious stones but also in the utilisation of glass for many decora­tive purposes. Bijouterie of all kinds is one of the chief specialities of Jablonec glass-ware.
12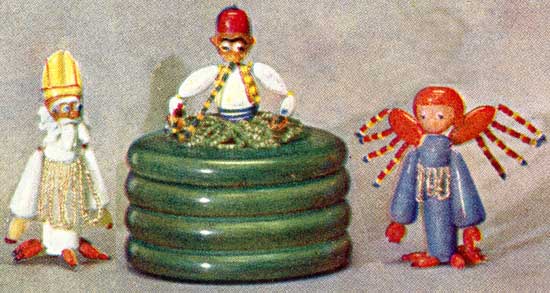 On voit ici un mode tout nouveau d'utiliser le verre dans la confection d'objets décoratifs. Il a été imaginé par un jeune professeur de l'école professionnelle de verrerie de Zelezný Brod.
This shows an entirely new method of using glass in the production of decorative objects. It is the idea of a young instructor at the Zelezný Brod technical school for glass making.
13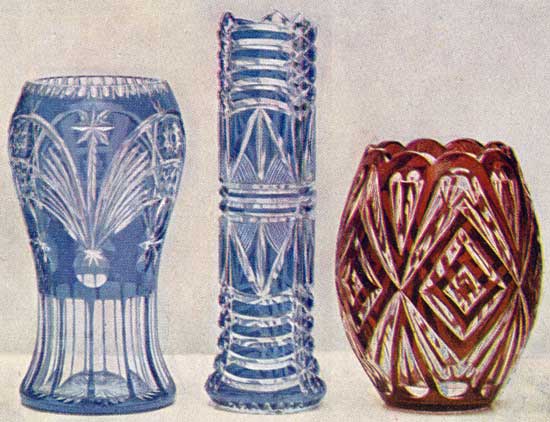 Certains verriers se livrent à la fabrication du verre plaqué de rubis ou cobalt, où ils sont passés maîtres grâce à des procédés secrets. Le cristallier tchécoslovaque sait tirer de ce cristal plaqué de merveilleux effets.
Certain glass manufacturers specialize in the production of glass articles having a covering of ruby and blue glass. Owing to their knowledge of secret processes, these manufacturers are past masters in the art. The Czechoslovak cry­stal worker knows how to obtain wonderful ef­fects with this coloured glass.
14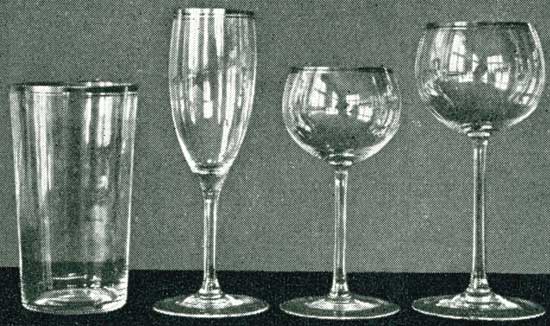 SERVICE DE TABLE
Les motifs décoratifs taillés ou gravés dans le cristal sont parfois rehaussés d'or soit mat, soit brillant, suivant le but qu'on se propose ou le milieu auquel les objets sont destinés.
TABLE SERVICE
The effect of the decorative designs cut or en­graved on the crystal is sometimes heightened by the addition of gold, dull or bright accord­ing to the nature of the design or the pur­pose for which the articles are intended.
15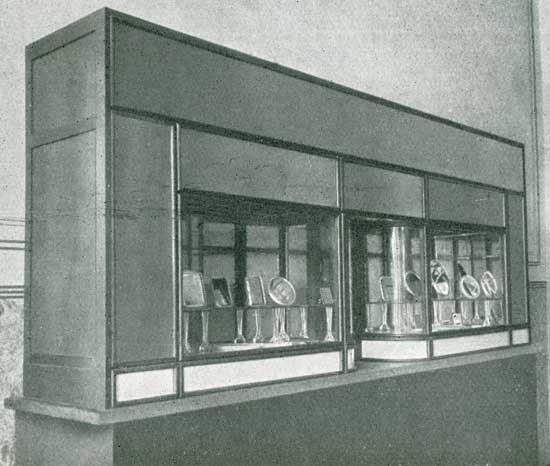 VERRE À GLACE
La Tchécoslovaquie produit un verre à glace poli et taillé avec une précision mathématique. Ses qualités lui ont valu d'être non seulement réputé, mais apprécié dans le monde entier. Étamé, ce verre permet d'obtenir les meilleurs miroirs.
MIRROR GLASS
Czechoslovakia produces a mirror glass cut and polished with mathematical precision. Its qua­lities have caused it to become known and high­ly valued throughout the world. From this glass the finest mirrors can be made.
16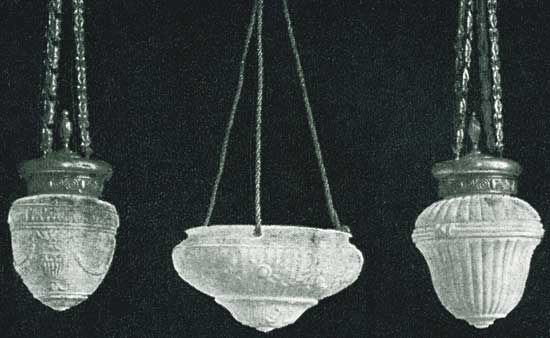 La verrerie tchécoslovaque, possédant de lon­gues traditions et de nombreux raffineurs, pro­duit non seulement le verre destiné à l'industrie et au ménage, mais encore le verre pour articles d'éclairage, le verre pour laboratoires et, surtout, le cristal destiné à des usages décoratifs.
The Czechoslovak glass industry has long tradi­tions and employs a large number of refiners. It produces glass not only for industrial and do­mestic purposes, but also for lighting fixtures, for laboratories and, above all, crystal for use in the making of decorative objects.
17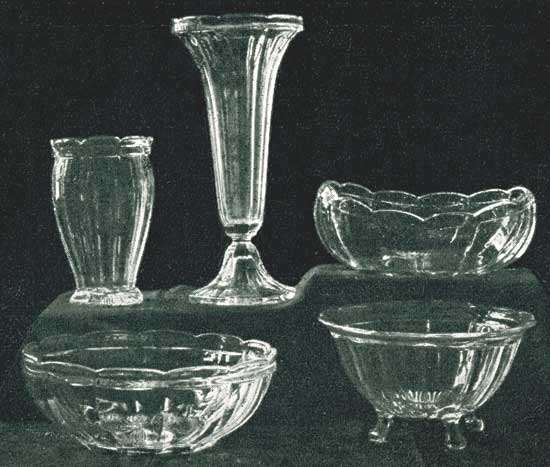 SOCIÉTÉ ANONYME DES VERRERIES ET CRISTALLERIES
JOSEPH INWALD Prague, Bredovskâ ul. II
Usines à: PRAGUE - ZLÍCHOV, TEPLICE, CHÜTZENDORF, PODEBRADY.
Bureaux de vente ou représentants à: Prague II., Bredovská ul. II.
Paris: Bruno Mandel, Agent général, 17 rue de Paradis.
Produits: Articles de luxe en cristal, taillé, gravé ou décoré - Services de table -
Articles en cristal moulé de premier choix
(Spécialités: Assiettes, Compotiers, Fruitiers, Vases etc. en mouleurs modernes et en imitation de taille).
Verreries d'éclairage en tous genres (spécialités: Oplex et Reflectine) - Syphons.
GLASSWORKS JOSEPH INWALD LTD.
Prague, Bredovská ul. II.
Works at: PRAGUE - ZLÍCHOV, TEPLICE, CHÜTZENDORF, PODEBRADY.
Offices or representatives: Prague II., Bredovská ul. II.
Paris: Bruno Mandel, Agent general, 17, rue de Paradis.
Products: Cut, Engraved or Decorated Glass de Luxe, Table Glass,
All kinds of moulded Glass (Speciality: First Glass
Bowls, Vases, Plates etc. in moderne patterns).
All kinds of Electrical Glass fittings
(Speciality: Oplex and Reflextine) - Syphons
18
CRISTALLERIE ,,KLOSTERMÜHLE"
JOH. LÖTZ WITWE
G. M. B. H.
Rejstejn - Unterreichenstein Tchécoslovaquie
CRISTAUX ARTISTIQUES
DE BOHÊME
Vases, Coupes, Bonbonnières, Vaporisateurs etc. Garnitures de toilette.
ARTICLES DE HAUT LUXE
Représentant pour la France:
J. JOUVE, PARIS
21 RUE DE PARADIS
20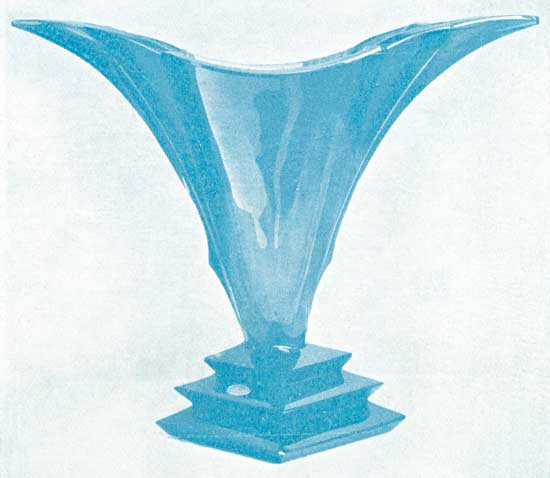 Imprimerie Industrielle Prague
Sklárský ústav Hradec Králové